A month in the field in Kyrgyzstan and Kazakhstan with Julie Losen, Earth & Planet PhD student at CEREGE.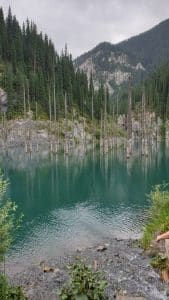 In Kazakhstan, dating seismic activity by studying trees and lakes

Beginning of July 2022: In the framework of the CASAC project (Tree Rings and Earthquakes in Central Asia) financed by the Eccorev research federation, the aim of the team's mission around the thesis of Julie Losen (Magali Rizza - CEREGE, Cécile Miramont, Elodie Brisset, Lenka Brousset, Fred Guidal, Fred Guiter- IMBE) is to date the seismic activity of active faults in the Tien Shan region, particularly in Kazakhstan.
 The team sampled trees and lakes that may have been impacted by earthquakes. They are in fact like the memory of their environment...
To do this, a number of trees near the fault and others further away that were not affected by the earthquakes were sampled via small cores in the trunks. " During this time, we opened a palaeoseismological trench on a small flat area to see the fault in section. We were also able to take rock samples from moraines deformed by the fault. "explains Julie.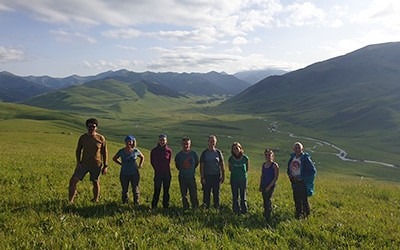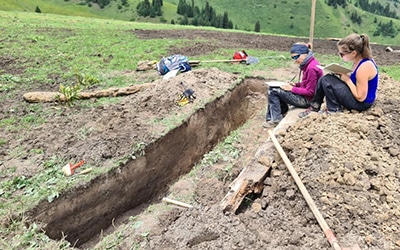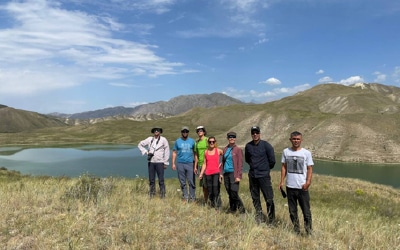 In Kyrgyzstan, understanding history and preventing risks through analysis
A week later, the field mission continued in Kyrgyzstan, along the Naryn River, in the Tien Shan range, with Magali Rizza, Maxime Henriquet, Alexis Nutz (CEREGE) and Mathieu Schuster (EOST). In this region, earthquakes and landslides are major risks for societies and economies. Earlier work along the Naryn River attributed the damming of the river in the past to the Beshkiol mega landslide, creating a 70 km long lake.


Julie points out that"In order to determine the age of the lake sediments and therefore indirectly of the different landslide events, we have collected samples that will be dated by luminescence (OSL) and 14C on certain sedimentary units distributed in the basin and close to the landslide..
Thanks to the analysis of satellite and UAV images as well as the associated Digital Terrain Models, a detailed mapping of the basin has been carried out revealing numerous fluvial and lacustrine deposits as well as paleo-rifting of ancient lakes preserved upstream of this landslide.
The field survey and the observed stratigraphic sections have shown that, contrary to what was thought, at least two major diking episodes took place, forming two major lakes in this region.
Consult with peers on further research
Julie's thesis is also part of a NATO project entitled "Earthquake Hazard and Environmental Security in Kazakhstan and Kyrgyzstan with the aim of determining more precisely the natural hazards in this region of the world.
A workshop with the international team (Magali Rizza -CEREGE, R. Walker, R. Arrowsmith and I. Pierce - NATO) concludes this one-month mission, offering a chance to develop a research and training activity for the project by continuing previous research along the 1911 earthquake rupture zone in the Chon Aksu valley.