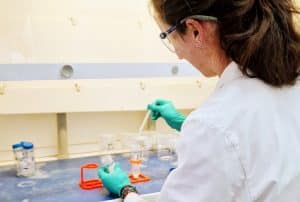 CEREGE attracts junior and senior researchers applying for permanent positions and provides them with an environment conducive to the development of their research activities.
The CEREGE also welcomes renowned guest researchers.
The CEREGE has an average of about fifty doctoral students, with a flow of new entrants of about fifteen per year.
Between 2016 and 2021, the number of permanent staff (mainly researchers, teacher-researchers and ITAs) has increased by 8 %, implying a decrease in job insecurity.
Post-doc position on impact craters and consequences
Place/Location : CEREGE Arbois
Contact: Yoann Quesnel quesnel@cerege.fr
Announcement parue le 04/04/2023 / Annonced on April, 04th 2023
Senior Lecturer in Dynamics of Continental Surfaces in Response to Tectonic and/or Climatic Forcing 
Location: CEREGE Arbois
Contact: Vincent Godard godard@cerege.fr; Olivier Bellier bellier@cerege.fr ; Bertrand Devouard devouard@cerege.fr
Announcement published on 22/12/2022
Professor of Environmental Isotope Geochemistry 
Location: CEREGE Arbois

Contact: Isabelle Basile-Doelsch basile@cerege.fr; Olivier Bellier bellier@cerege.fr ; Bertrand Devouard devouard@cerege.fr
Announcement published on 22/12/2022
Since 2018:
Three AMU lecturers, two IRD researchers, one INRAE researcher, five CNRS researchers and one junior professor were recruited.
One Associate Professor, one AMU Senior Lecturer, one IRD Research Engineer and one CDI Researcher (ECORD) have been assigned
2 CNRS researchers were transferred