The Master's degree in Earth and Planetary Sciences, Environment (STPE) aims to provide students with cross-disciplinary knowledge and a cutting-edge scientific approach in geosciences, focusing on major environmental issues.
Skills development
. a solid training in the geosciences in line with the latest advances in research, in particular those developed at CEREGE,
. the ability to reinvest all of the knowledge acquired to propose a relevant framework in a professional situation,
. mastery of rigorous communication of acquired knowledge to both an initiated and non-specialist public.
Areas of application
. L'geological and geophysical study of reservoirs fractured sedimentary rocks in the context of the energy transition. The pedagogical approach integrates naturalistic observation, detection-measurement and modelling methods of geological object-systems.
. L'study of hydrogeological systems by different physical and geochemical characterisation methods.
. Understanding the Global change and natural hazards through the study of land surface processes in relation to climatic variations, active tectonics, and geomorphology. The presence of unique tools at CEREGE for these themes allows us to offer state-of-the-art teaching in geochemistry, geochronology, geomatics and geophysics.


Pedagogy
The work of land is fundamental to the teaching of the Master's degree in STPE, with different courses offered to students during their studies. Particular emphasis is also placed on digital techniques for data analysis in Geosciences - Geographic Information Systems, modelling, geostatistics.
The active pedagogies are at the heart of the training with a Project-based Learning module per semester. Finally, each year includes a work placement - in a company or academic laboratory - including a full semester in M2.
The Master STPE is largely based on the research potential of the CEREGE and in particular its analytical platforms, unique in France, to train students in the use of advanced geoscience techniques
Target audience

Students from the Earth Sciences, Life and Earth Sciences, Geography, Chemistry or Physics degree courses

Purpose and opportunities
Our aim is to train specialists in water and energy resources, land surface processes and climate change who are able to use innovative methods and technologies to address current and future environmental issues.

Graduates can then work as engineers in the academic world, in companies dealing with environmental issues, in local authorities and other organisations involved in environmental policies. The pursuit of a doctorate is also an important outlet for students of the Master STPE.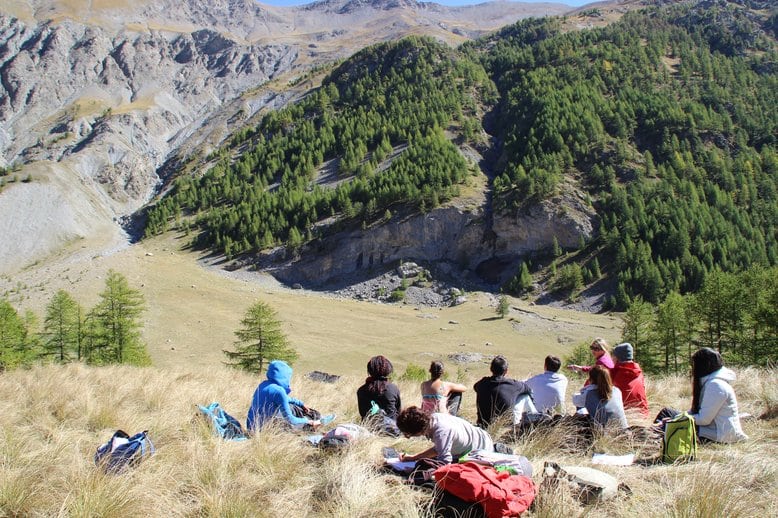 Master in Environmental Management
Course: Environmental Management, Valuation and Analysis - Environmental Sciences and Technologies (MAEVA-STE)
Purpose Soil, Waste and Polluted Sites Management (SWSM)
The aim of this two-year degree is to train professionals capable of implementing sustainable management of our environment. It provides students with the knowledge and tools necessary to understand the natural and anthropised functioning of terrestrial ecosystems - natural, agricultural, urban and industrial environments -, to model the dissemination of pollution in the environment, to manage and recover waste, to propose corrective measures for the degradation of polluted sites and soils, to evaluate environmental management measures (QHSE) and to set up a nuclear safety approach    
The education The courses include a mixture of lectures, practical work and practical work associated with company visits. Half of the courses are taught by teacher-researchers or researchers in physical chemistry, water and soil geochemistry, biogeochemistry, geophysics, pedology, soil microbiology, geomatics, geology, hydrogeology and geomorphology, and professionals from the PHC and waste management sectors (BE, INERIS, VEOLIA, CEREMA ....).
The M1 internship of at least one month, followed by the 5 to 6 month end-of-study internship, enables them to finalise their professional project and can take place either in a research laboratory or in a company.
Climate and Environmental Management (CEM)
This purpose is structured on two pillars:
. environmental management, dedicated to the issue of environmental standards, assessment and management of environmental risks in companies
. knowledge and consideration of climate change in the adaptation and mitigation strategies of companies or territories.
The GEC purpose This brings together the skills of environmental risk diagnosticians for a wide range of professions, from the QHSE approach in companies to climate vulnerability in the territories, via footprint assessments (carbon footprint).
Target audience

Students with a degree in Environment, Environmental Engineering, Earth Sciences, Ecology or Process Engineering.

Purpose and opportunities

Our objective is to train specialists in the technical and regulatory management of environments and resources (e.g. SSP engineer, HSE engineer, sustainable development officer, etc.) in the private or public sector. Students may be eligible for further research (thesis, study engineer, etc.)
Target audience

Students with a degree in Earth Sciences, Earth Sciences, Geography, or continuing education.
Purpose and opportunities
Our objective is to train specialists who can manage a Quality Safety Environment Climate approach within a company, a community or on a regional scale.
Course: Territorial Management of Natural and Technological Risks-Risk Sciences (GERINAT-SR)
The GERINAT-SR course is aimed at jobs as project managers and study managers for water, risks and the environment, environmental risk prevention and major risks, territorial technicians for natural risks, pollution and environmental nuisances within local and territorial authorities, study offices and large industrial groups.
The teaching in M1 allows the development of concepts and the mastery of phenomena at the level of natural hazards - flooding, gravity movements, forest fires, seismic risks, erosion and coastal submersion, torrential phenomena, etc.
M2 focuses on operational tools for risk management, mitigation of phenomena and their impacts through structures, risk management plans (PPR, PPRT, PIDAF) and crisis management.
Target audience

Students with a bachelor's degree in geography, science and technology, environment, HSE, in initial or continuing education, who can prove that they have 3 years of higher education (possibly by VAP) and who wish to prepare for the master's degree in person or by VAE.

Purpose and opportunities
Our objective is to train versatile professionals in natural risks and, to a lesser extent, in technological risks, who can work in private and public structures - consultancy offices, river syndicates, environmental and risk departments of local authorities, associations, industries, departmental fire and rescue services (SDIS) - as project managers, study managers, technicians or engineers in the field of the environment and risks.