When she died, in the XVᵉ century BC, this woman benefited from a particularly rich embalming. This is revealed by the study of two canopic vases in which her viscera had been deposited, in a tomb in the Valley of the Kings.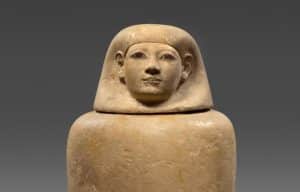 Nearly three and a half thousand years ago, Senetnay lived on the banks of the Nile. She was to become "she who nourished the flesh of god". She was the nursemaid of a baby who would later ascend the Egyptian throne under the name of Amenhotep II. The pharaoh must have been grateful to her, because Senetnay was given special treatment after her death: not only was she buried in the Valley of the Kings, but, as an international study has revealed published on Thursday 31 August in Scientific ReportsThe remains of the royal wet nurse were embalmed to a very high standard.
Yet the remains in question no longer exist! The authors of this multidisciplinary study, which combines archaeology, chemistry and botany, looked only at two of the four canopic vases in which Senetnay's viscera (liver, lungs, stomach and intestines) had been placed by the embalmers during the mummification of his body.
. Read the rest of the articleLe Monde, published on 31 August 2023, p.ar Pierre Barthélémy
But also:
. Scientifics Report (link to article)