Tools Basic chemistry (LA-ICP-MS)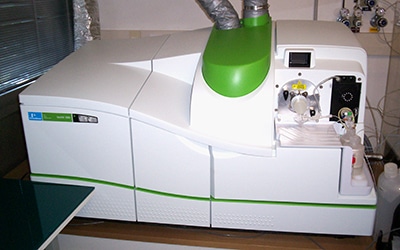 Perkin Elmer NexIon 300X
Elemental chemical analysis of 90% elements of the periodic table.
Determination of traces (µg/L) and ultra-traces (pg/L).
Work in collision mode (He) to minimise spectral interference: for example the limit of quantification of As75 is of the order of 10 pg/L even in the presence of HCl.
ESI SC-4 DX FAST autosampler for reduced analysis times and analysis of large sample runs (up to 240 samples). 
Agilent 5800 VDV
Determination of majors and minors. Concentrations between 0.020 mg/l and 50 mg/l
Vertical torch (to reduce matrix effects).
Axial or radial aiming analysis. Choice of lengths which allows a great dynamic of concentration.
CCD camera detection in simultaneous mode. Access to all wavelengths: from 167 nm to 785 nm.
Excellent sensitivity and stability (Adaptive Integration Technology). 
Pairing with a smuggler ESI SC-4DX FAST with a fast injection loop that allows analysis times of less than 2'30 regardless of the number of elements and wavelengths chosen.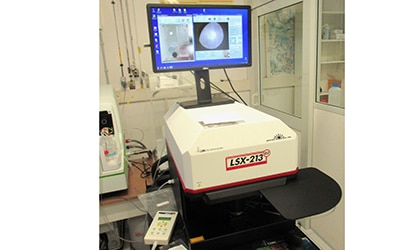 Laser with a wavelength of 213 nm that allows the ablation of most solids.
Choice of spot sizes from 10 µm to 200 µm.
Choice of laser power, speed of movement.
Cell HelExThe two-volume dynamic range allows for very good spatial resolution while maintaining good sensitivity. 
Cryogenic stage, allowing to work on fresh biological materials.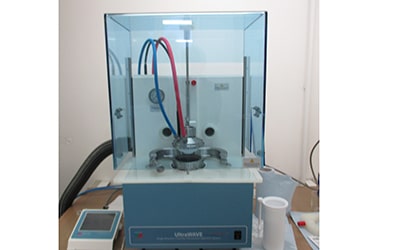 UltraWave Thermo-Scientific
Mineralisation up to 250°C and 100 bar pressure under nitrogen pressure with concentrated strong acids.
Rack for 15 samples (15 mL tubes) or 5 samples (40 mL tubes)
Programming of temperature curves as a function of time.
All samples are at the same temperature and pressure.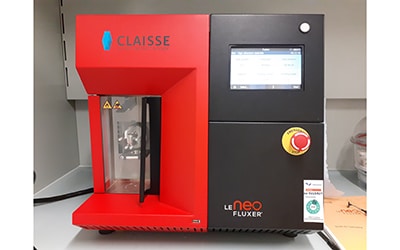 Claisse LeNeo
Preparation of a wide range of materials in an automated and secure manner. 
Solution for ICP analysis or glass disc moulding for XRF analysis. 
Programmable fusion parameters guarantee a high fusion success rate. 
Temperature up to 1200°C.